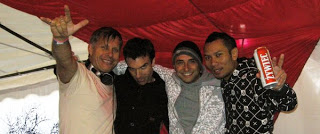 For over a year, the DJ/promoter crew Box Of Kittens (DJ's
Hali
,
Jamie Kidd
,
Mike Gibbs
&
Fabio Palermo
) have been responsible for re-energizing Toronto's underground with a series of highly successful loft and warehouse parties. No chin strokers and wall flowers here, the party's ethos is about good music and having a good time. Just in time for their upcoming big bash with like minded promoter alienInFlux featuring Seth Troxler, Deep Transmissions asks the boys a few questions about the secret to their success and where the name Box Of Kittens came from…How did you guys meet each other?
HW: We all knew each other through the music scene but I think what actually brought us all together was playing at alienInFlux events, like the Harvest Festival, for the last 3 or 4 years. Afterwards, DJing together only seemed natural.
FP: I met everyone in 2007. Mike at Boreal, Hal at Cherry Beach and Jamie at our first party.
Why did you start the night and what is the concept behind the night?
HW: Mike and I had many conversations about the state of the scene and how Techno was becoming marginalized and, well, too serious. There was no 'party' at techno parties. We had envisioned a different type of party that would be fun and sexy, but still retaining strict ethos to the underground. We had been talking about doing something all of the previous summer, but nothing really materialized. And then, suddenly, the 4 of us got brought together to DJ at a friend's going away party, and it was literally the big bang that ignited Box of Kittens.
FP: We felt Toronto was in need of something fresh. Rather than use the DJs as the draw, we want the event to be the draw. The four of us is what Box of Kittens is all about. Our styles can interbreed with each other. Basically, a warehouse party meets a house party with killer techno!
How did you come up with the name "Box Of Kittens"?
FP: That is a Mike and Hal question! LOL
HW: It was an inside joke that we had for a year. Mike came up with the term which was an offhand remark about a girl. I think he said 'Look at her, it's like looking at a box of kittens'. And then when we were searching for a name, we thought of it. It was so leftfield, sexy, fun, and unusual, it was perfect. I think it fits our type of parties perfectly.
What can people expect musically?
FP: Amazing techno of all kinds. The sound has progressed so much into many different sub-genres that allow the night to flow smoothly. You get the housey side, the glitchy side, the progressive side, and the funky side.
HW: The great thing about our crew is the dynamic range and the different angles we all take towards Techno. You can expect to hear 4 on the floor techno but that's a really broad stroke. From my side, I tend to play on the deeper side of Techno. I love organic elements so you would definitely hear some Soul, Funk, and Jazz undertones, but I love the trippy shit as well, just as long as it's interesting. My musical influences are Detroit Techno, Chicago House, New York Garage, and Berlin Minimal, so you are bound to hear some of those influences come through my Techno sets.
JK: From my side expect things to change and cut up a bit with music that incorporates elements from many styles. Sexy, glitchy, bass heavy minimal, tech house and techno with some electro and fidget house – although I'm not typically into anything that is sample laden. I'm usually more on the raw, dark tip, but these days I have definitely been getting deeper with some (dare I say) strong tribal influences coming back. I'm also really into the cosmic disco scene now, so I incorporate those sounds whenever I get the chance (which is not often enough!)
As a bassist, I'm always tuned in to how the bass and drums are working together to create an overall pulse. I come from a live music background; studying and performing jazz for years, as well as playing, recording, and touring with rock, funk, dub, and live drum & bass groups. I've always been able to hear the similarities between styles more than the differences, and I try to bridge those similarities in my mixing. My main influences historically have been innovators like Charles Mingus, Miles Davis, and Parliament to Amon Tobin, Cari Lekebusch, and Matthew Herbert.
MG: I come from a live music background as well, having sung and played guitar and bass in numerous industrial bands that toured the states, Europe and Canada with bands like Ministry, Skinny Puppy, Nine Inch Nails, Meat Beat Manifesto…..
Like all of us in Box Of Kittens when I spin I like to incorporate different styles of electronic music, though I generally lean towards the more 'tweaky' and trippy end of things, lately I'm enjoying the deeper, housier sound that's been emerging from Europe as well. I also like to throw in a couple of curve balls, like the odd dubstep or vocal track.
I would consider my musical influences to include Funkadelic, Autechre, Einsturzende Neubauten, Barry White, Plastikman, Gang Of Four, Primal Scream, Hardfloor, The Sex Pistols, Ricardo Villalobos, The Meters, Aphex Twin and others too many to mention lol. As long as it's got the funk I'm looking for I enjoy bringing new sounds and rhythms to new audiences, everything depends on the particular vibe of the party and where I think I want to take the dancefloor ; )
What would you say is the current state of the House or Techno scene in Toronto?
HW: I think people are starting to get a little tired of regular club nights, I know I am. But, the underground scene is thriving, and there's a demand for 'different' types of parties. You just have to be in-the-know. Look at the success that Promise Cherry Beach had this summer. Or that crazy packed party on that disused bridge over the Don Vallley. And even the success of Nuit Blanche proves that people really don't want the same. So, I think this is representative to what people want. More unusual settings, less of the same. Box of Kittens has been aware of this and, we always like to keep our parties and venues fresh and new.
FP: Well, I am not a fan of the clubs right now and I don't go to them to know what the current Techno/House scene is all about. I see it from the Internet picture world and live vicariously through friends who still go out and party. We have a lot of local promoters doing great jobs of bringing in NEW talent, which I applaud and think is most important to the scene. I'd go out and listen to someone new rather than someone in town every couple of months. Our scene is still thriving — you just have to go to the right events, hint hint 🙂
I know you guys each have musically related projects (e.g. production, radio, etc. Can you describe for those that don't know what else you're involved in)?
HW: Apart from event production, and even some music production, I'm known for my work with Netmusique. I founded and operate it which is a high-volume, international Internet Radio station. I started doing it as a simply way to play music for my friends. In doing that, it literally became the world's first Deep House netradio, which is known as Housemusique. Now it's grown to include Electrique and Flaresound which have been hugely popular in their own right. But, I have to admit that I'm simply amazed at what was created and what it's become. This year, it really hit me as we are going into our 10th year of operation. You can find Netmusique highly ranked on AOL/Shoutcast, or on iTunes radio, or the site itself at netmusique.com, if you want to check it out.
JK: On the production front, I've been very busy over the past couple years producing with my good friend Frederik Hatsav under the name Metalogic. Most of our releases have been edgy, percussive techno, but lately we've been branching out a bit. We've had 2 twelve inch EP's released thus far; one for New York's Addon, as well as one for Brooklyn's Hidden Agenda, which we were proud to have supported by some of our favorite artists including Someone Else, John Selway, Extrawelt, and Frankie Bones. We are excited to have a new 4 track EP coming out this November on London's Perc Trax called 'Surge Stimulation', as well as a few more digital singles and remixes.
I also produce under my own name for Toronto's Thoughtless Music, and California's Monism — but for the most part I devote my time to Metalogic's productions and our live p.a. I'm really feeling the itch to get a new live band together these days but there's never enough time for everything.
MG: I'm currently working on projects with the other guys in Box Of Kittens, plus Gaz Mellen and Lachlan Bleackley…..I'm hopeful we'll start seeing stuff released in the new year. Gaz and I have just had a remix released on a new album by Spiral Into The Storm. Released by Decibel Palace ( http://decibelpalace.com/ ) it's available on iTunes and most mp3 sites.
And recently Transformantra a live four piece techno act that I was involved with in the late nineties has had two albums re-mastered and re-released also on the label Decibel Palace. Transformantra and Transformantra 2 have stood the test of time pretty well. Lol, don't be mislead by the name as the music is in what would now be considered more of an electronica vein. Both albums are available on iTunes.
FP: I've worked on production for years with so many different amazing people. I started working with Xstatic Records back in 1998, helping them promote and sitting in on many studio sessions. That later developed into DMT Records with two of the partners from Xstatic. I've played radio shows on 1groove.com and hosted one on Global Groove, and produced radio shows with Chris Sheppard that were syndicated across North America. I have a few releases out with Sydney Blu that are available on Beatport, and am currently working on some remix and original projects. My hectic day job makes it very difficult to stay in touch with my musical side at the moment, but I think that will change in 2009 🙂
Will there be any "official" or club nights from "Box Of Kittens" or will it always stay underground?
FP: We actually branched out with "Sourpuss." It was/is our club front and it started with a one-off Friday at Circa. Things behind the scenes did not work so well for us that night and we feel we didn't belong in that environment. Knowing this, we will (if we decide to) make sure the club and us are a perfect match for us to do it again!
HW: I want things to stay underground, but that's something we need to discuss. The thing about the future is you never really can quite tell. 🙂
What are upcoming "Box Of Kitten" events to watch for?
HW: We are actually partnering with the one that brought us all together to begin with. On December 6th, we team up with alienInFlux to bring the latest Box of Kittens event at a brand new space at 1610 Bloor West. This time, we have 3 rooms and several headliners, which is a first. As well, we are representing different music genres including different shades of dub, and not just Techno, so we are really excited about it. Headlining is Seth Troxler from Detroit/Berlin, and a live PA by Komodo from Montreal, as well as our own, the Gates Foundation, and of course, all of us. All the ingredients are there for it to be the best one yet. Can't wait, can't wait!
FP: December 6th, 2008 and scattered events through 2009. All our events are ones to watch for!