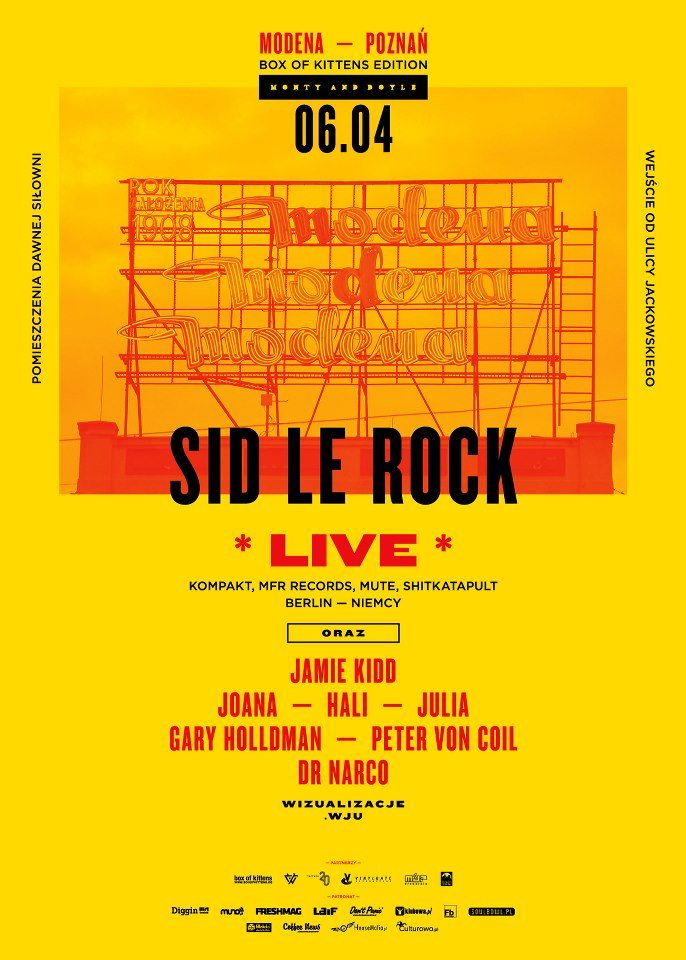 Box of Kittens radioshow with Hali and Jamie Kidd b2b from Poznan, Poland – April 23, 2013 by Box Of Kittens on Mixcloud
Line-up /
Sid Le Rock (live), Hali, Jamie Kidd, Joana, Julia
Stawiając opór przewidywalność zapraszamy na wydarzenia klubowe do dawnych zakładów odzieżowych MODENA. W pomieszczeniach magazynowych, gdzie jeszcze niedawno działała siłownia powstaną dwie niezależne sceny. Surowy industrialny klimat połączony z minimalistycznym wystrojem zostanie wzbogacony o spora dawkę dobrych brzmień i iluminacji świetlnych. Wydarzenia powstaje we współpracy z międzynarodowym projektem Box Of Kittens znanym z szeregu nietypowych eventów zarówno w Europie jak i za oceanem. Wydarzenia jest także wspierane przez markę Monty & Doyle.
LINE-UP
SID LE ROCK (aka PAN/TONE) *Live*
(Kompakt, MFR Records, Mute, Shitkatapult / Berlin, DE)
HALI
(Box of Kittens, Netmusique / Toronto, CA)
JAMIE KIDD
(Box of Kittens, Metalogic, Thoughtless Music / Toronto, CA)
JOANA
(CIA, Rec.Out)
JULIA
(Streamwise)
GARY HOLLDMAN
(International Day Off, Rec.Out)
+++ more soon
Wizualizacje .WJU
Box of Kittens to założony w 2007 roku w Kandzie, międzynarodowy projekt, poświęcony organizacji wysokiej jakość eventów dedykowanych muzyce elektronicznej. Korzeni działalności grupy zrzeszonej wokół BOK należy upatrywać w niezależnych, podziemnych imprezach organizowanych m.in. w: kościołach, galeriach sztuki, czy w szkole baletowej w Toronto. Cykl w dużej mierze przyczynił się do rozwoju tamtejszej sceny niezależnej, głównie poprzez współpracę z takimi artystami jak Robag Wruhme, Seth Troxler czy Kink. W czerwcu 2012 roku projekt Box of Kittens pojawił się także w w słynnym kompleksie Berghein w Berlinie, natomiast na kwiecień tego roku zaplanowana jest jego premiera w Polsce.
Box of Kittens is an international production group providing high-quality electronic music events to its members. Having its roots in secret, non-public events, BOK parties have grown in size while always retaining an intimate atmosphere with friends and music lovers. Since 2007, Box of Kittens has led the underground scene in Toronto, Canada, hosting artists such as Robag Wruhme, Seth Troxler and Kink in exciting, unconventional spaces such as churches, ballet schools, and art galleries. These lauded events are now regarded as legendary all-night dance marathons. As of June 2012, Box of Kittens began promotions in Berlin, Germany including in the renowned Berghain complex, and now in April 2013 they are proud to co-present their first event in Poland.